Focus AutoTyper 3.1 free download is available. It is an advanced automatic typing software. It takes notepad/word file as input and simulate keyboard key strokes to auto type in any copy/paste disabled data entry application.
Focus AutoTyper previous versions support autotyping in any application. There are few applications like Notepad RTX++ which doesn't allow auto typing. We are releasing Focus Auto Typer 3.1 and introducing an Advanced Typing Mode feature to support such applications. The preceding version of software is 3.0.
Focus Auto Typer 3.1 New Features :
Typing Mode

Regular – supports auto typing in almost any application
Advanced – try this if Regular option does not work
Focus AutoTyper 3.1 application has all the features of 3.0 including given new features. The screenshot below shows the Typing Mode option introduced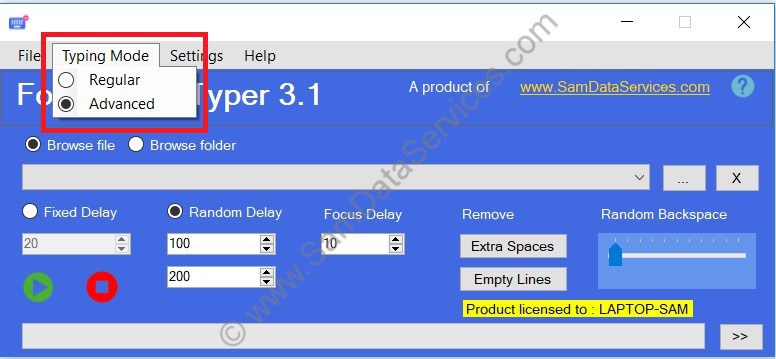 Click here for complete details and pricing of focus autotyper software. To know the steps of purchasing a license, visit the article Steps get Focus Auto Typer License File / Key
Upgrade from Focus auto typer 3.0 to Focus auto typer 3.1 :
Users with valid license for Focus auto typer 3.0 can use the same license file for Focus auto typer 3.1. We recommend our customers upgrade from version 3.0 to 3.1 and utilize the new feature.