"Looking for a free auto typing software to get rid of tedious manual typing work?". Here we have a solution to your problem. We have released a free automatic typing software, Focus Auto Typer Lite and it is now available for download. This software allows you to automate unlimited typing through keyboard key stroke simulation.
What is Focus Auto Typer Lite Software ?
It is a freeware software utility to automate keyboard for typing.
It allows to Auto Type text into any application including copy paste disabled application.
How it works ?
Open Focus Auto Typer Lite, Load notepad file or paste text into the Auto Typer.
Click on start button and place the cursor in client application, it will start typing automatically.
Screenshots of Focus Auto Typer Lite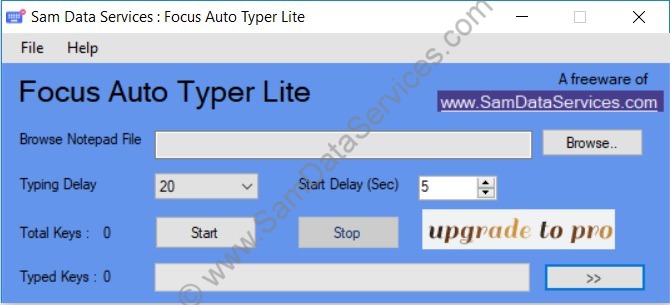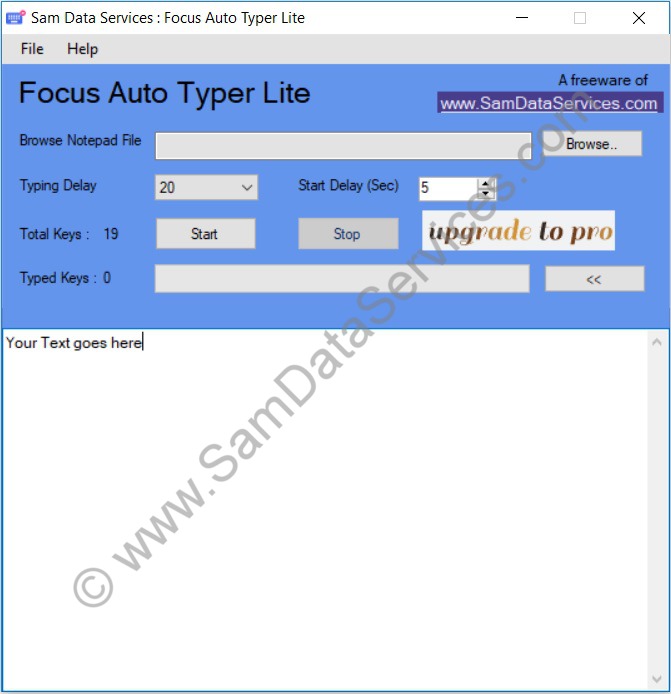 Why should you use Free Automatic Typing Software?
Below are the few use cases of auto typer
For typing the repetitive text as it saves your time
Auto typing text into copy paste disabled application as it saves your manual work
Data entry automation in cases where automation is allowed
Download Focus Auto Typer Lite for free and give it a try. It is 100% free and it supports unlimited text typing.
This is one of the best freeware automatic typing software. It types with 100% accuracy. The video below shows the working demo and usage of the software.
Upgrade from Focus auto typer Lite to Focus auto typer Pro :
Focus Auto Typer Lite is a freeware software with limited features. For more features like modulating your typing speed and including random backspaces with frequency selection etc.., you can use the Focus Auto Typer Pro. The latest pro version is Focus Auto Typer 3.1 and its trail version is available for download. We provide full support for the pro version users. To get license for this Pro version visit the link