Announcing the release of Focus Form Filler Lite 3.0. It is a software used to automate form filling in any desktop or web application. It is an excel to form filling software which take input from excel file and instantly fills simple forms through automation.
We are constantly working on improving software with updates and new features. For customers and end-users of our product, newly developed features can provide added value and empower them to become even more productive. Most of our clients use this software for form filling data entry and to automate repetitive form filling tasks, hence we added more features to help them to do more of automation. We have introduced some new features like automating combination keys, custom keys. And hotkeys feature goes more handy to access application with shortcut keys.
The preceding version of this software is Focus Form Filling Auto Typer 2.1
What's new in Focus Form Filler Lite 3.0 ?
Settings form – user can access all settings at one place and change it as per the requirement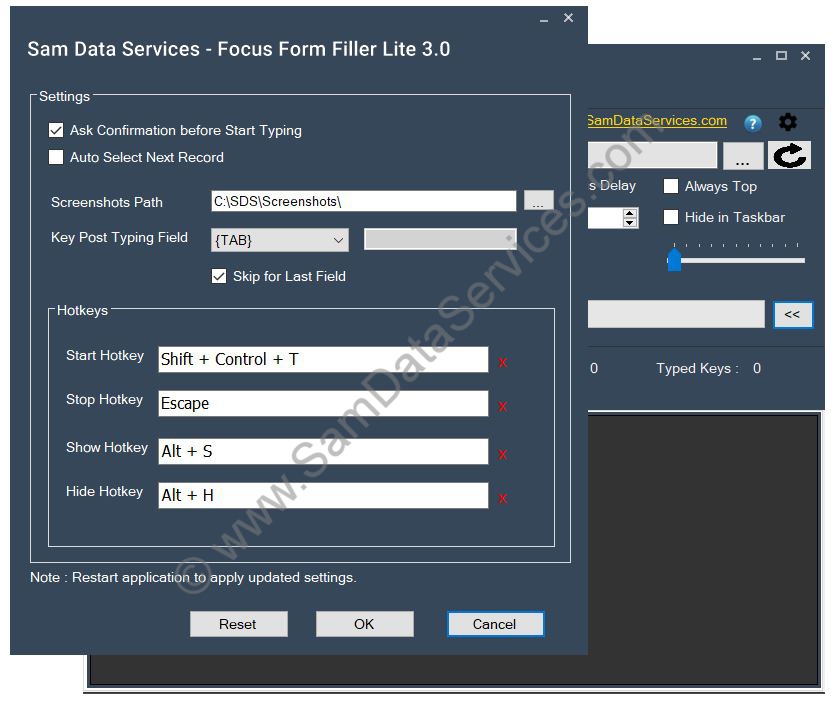 Auto Select Next Record – auto starts filling another form after completing one record
Ask Confirmation before Start – allows user to skip auto fill start confirmation dialog window to reduce clicks
Manage hotkeys – Keyboard shortcut keys used to perform start/stop operations. Also allowed to show/hide the form filler on screen. user can change the hotkeys accordingly
Screenshots Folder Configuration – whenever form filler get screenshot input, it automatically saves at the configured location
Combination Keys Support – added support for Ctrl, Alt or Shift key combination

If user wants to automate Ctrl/Alt/Shift key combination, this will also to use the same. For example,

{ctrl|a} : simulate Ctrl + a keypress
{ctrl|{Tab}} : simulate Ctrl + Tab keypress
Custom Keys Support – added support for custom keys like Pause, Save Screenshot

{Pause|n} : to pause for given seconds, eg:{pause|5} for 5secs, {pause|r} – random seconds between 1 and 10
{SAVEPRTSC} : automate capturing screenshot and saving it at the settings configured location
Key Post Typing Field – configurable key to simulate after typing a field/column of excel record, default key is Tab
Skip Key Post Typing Field – other than disabling column, user can also skip key post typing field for selected fields

Preview Text – Allows user to preview the keys for the selected record
Format Text – shows the formatted keys and highlights the system and custom keys of selected record
Display Caps Lock on – displays if keyboard caps lock is on
Reset to defaults – reset all settings to default values
UI Improvements and Bug Fixes

Added Reload Icon to clear the data and reload the selected excel file
Fixed issues with loading xlsx file extension
Restoring grid column widths while shifting between the multiple excel sheets
Default backspace frequency to zero
Minor performance improvement bug fixes